Verde Canyon Railroad
November 2, 2014
The word Verde is Spanish for green. While this part of Arizona is mostly a desert, the Verde River provides enough moisture for an abundance of vegetation. The canyon provides shelter from extreme temperatures. Hence, the names, Verde Canyon and Verde River.
The Verde Canyon Railroad was originally created to support the copper mines in Jerome, Arizona. Now the section of the railroad between Clarksdale and Perkinsville is an excursion rail service.
The train travelled at 10 miles an hour giving us ample time to admire and photograph the scenery. It is said that there is a year-around family of bald eagles in the canyon near the railway. I did not see them. However, there was enough outstanding scenery to keep me happy.
The Trip Up the Canyon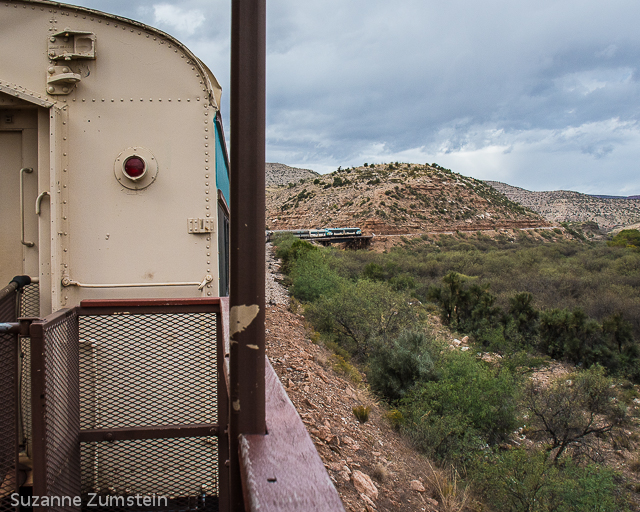 The long train included open air cars for viewing and photography.
The Verde River was quite far below the train here. The leaves on the trees were beginning to show their fall colors.
The Verde River again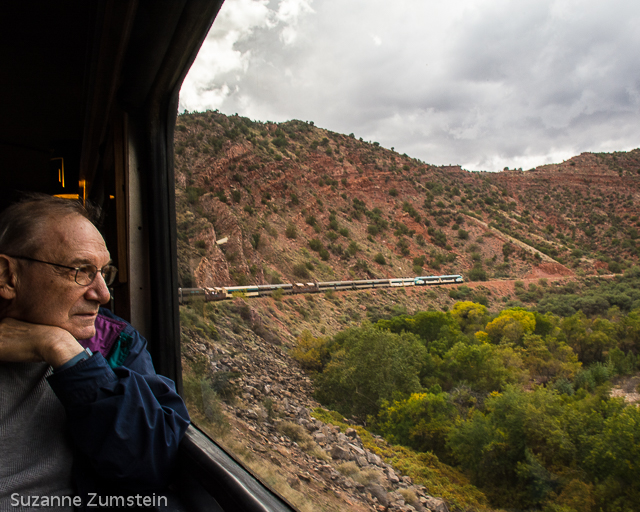 Bill rode facing backward. The view was just as good.
The Turn Around
They detached the engine from one end of the train and moved it to the other end. We then went back down the canyon.
Bill used his cell phone to take this picture of me waiting for a good shot of the engine moving to the other end of the train.
The train engine shortly before it attached to the train.
The Trip Back Down the Canyon
Trees in Fall color