The Jacob Klimek family
In the fall of 1912, two Polish teenagers, Stefania Klimek, age 16, and Wiktor Klimek, age 14, took the trip of their lives. Together, unaccompanied by an adult, they traveled to the new world leaving behind their home, mother, a younger sister, and an older brother. They met their father, Jacob Klimek, who had settled in Spring Valley, Illinois.
The Finland - not a beautiful ship
It must have been a scary trip. The political situation in central Europe was unsettled. In fact, the beginning of World War I was less than two years in the future. Stefania and Wiktor were young and traveling without parents. Were they frightened? Or did they go, "Wahoo! No adults!" It could have been the latter; a cursory scan of the ship manifest for the trip shows that there were a large number of teens and young adults and very few complete families on that trip. The same cursory scan leaves me with the impression that young people were fleeing central Europe en mass.
The Klimek family came from Brzezowic, Austria – now Brzesko, Poland. In 1912, there was no Poland as such; Brzesko is in Galicia, a part of Poland that the Habsburgs annexed to Austria in the late 1700s. While Poland did regain its status as a political entity after the end of World War I, that was a bit too late for our story here.
It is said that Jacob Klimek left his family in Galicia to work in the mines in South America. He later came to the United States to work in the mines, entering this country through the port of Houston. Coal mining was a big industry in north-central Illinois in the late 1800s and the early 1900s. Spring Valley was one of many coal mining towns in Illinois. Zinc was also mined near Spring Valley. After bouncing around the US for a while, Jacob settled in Peru, Illinois – a town near Spring Valley – and called for his family.
Stefania and Wiktor arrived in the United States in November 1912. Anna, the mother, and the younger daughter, Zofia, age 11, arrived in February 1913. The oldest son, Stanislaw, stayed behind. By 1913, Stanislaw was 20 and had probably begun his military career. It is entirely possible, given the political situation in the Habsburg Empire, that leaving was not an option for Stanislaw.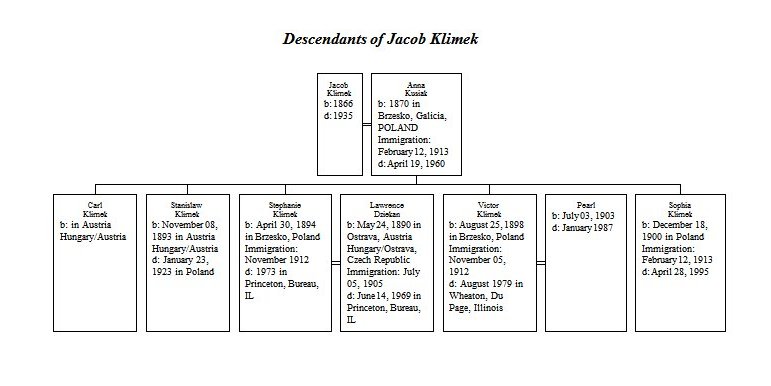 The name Klimek translates to Clemens, meaning merciful, in English.
The American branch of the family
So far, I have not been able to find any pictures of Jacob Klimek. Early pictures of Victor and Stephanie are rare.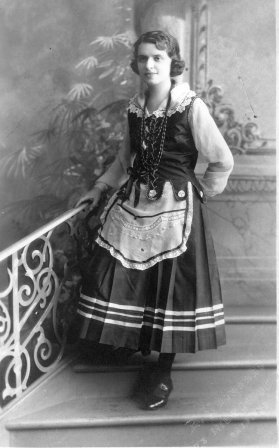 Sophie
(Zofia)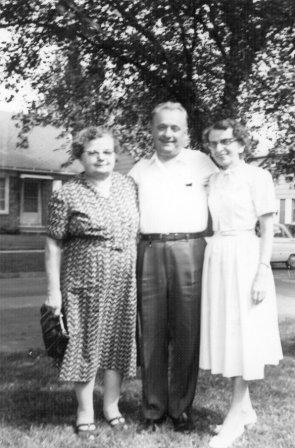 Stephanie, Victor, and Sophie
(Stefania, Wiktor, and Zofia)
Sophie and her mother, Anna - July 1940
(Zofia and Anna)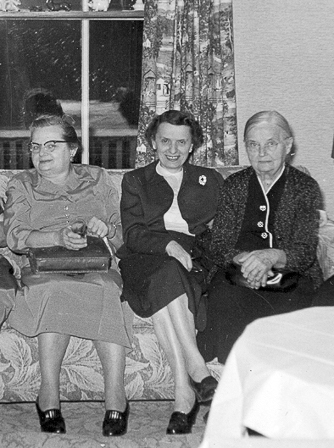 Stephanie, Sophie, Anna
(Stephanie, Zofia, Anna)
Anna and Sophie with the Fitzpatrick kids - Anna's great grandchildren
Image from Sopie Klimek's collection, courtesy Marissa C.
Sophie and Ann at Jacob Klimek's gravesite
Image from Sopie Klimek's collection, courtesy Marissa C.
Stanislaw
Stanislaw initially was a member of the Romanian army. There probably was no Polish army prior to World War I. Poland became a political entity after the end of World War I. He later joined the Polish army. He died in 1923 apparently of a gun shot wound. There are various stories of the event that caused his death, including a duel and Russian roulette.
The engraving reads:
Stanislaw Klimek
Kapitan Wojsk Polskich
8/11 1893 - 23/1 1923