Maritime Provinces, Canada
Cabot Trail - September 23, 2006
Short History
Before Europeans arrived, the Mi'maq people inhabited the area. Their descendants are still around.
While both the French and the English claimed the area we now call the Maritimes, the French were quick to establish colonies of settlers. The French called the area Arcadia. When the English took over Arcadia around 1755 to 1763, they evicted the French - many of them - and renamed Arcadia. Thus, we now have Nova Scotia, Prince Edward Island, and New Brunswick. Some of the French remained. Their descendants continue to speak French. Many of the French who were evicted ended up in Louisiana. Their descendants are known as Cajuns - a contraction of Arcadians.
During the first part of the 19th century, a large number of Scotts migrated to the Nova Scotia. They brought their Celtic culture and language, Gaelic, both of which they maintained through the generations.
One result of this is there are several distinct cultural groups in the Maritimes: Mi'maq, French, Celtic, and English.
St Peter's Church - Chéticamp
Chéticamp, also on the Gulf of St. Lawrence coast, is the gateway to the Cape Breton Highlands National Park. Our big blue bus dropped us off at St. Peter's, a historic landmark.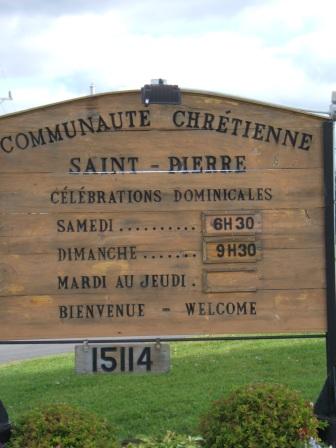 Note that the sign is in French
Carol and Dick are taking a picture of the church; the fishing harbor is in the background.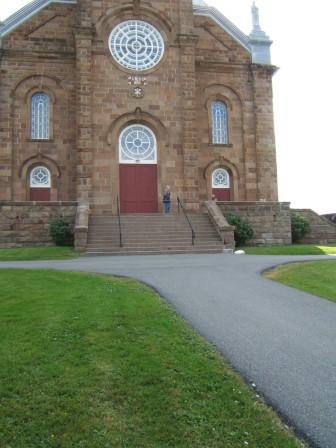 St Peter's was built in 1893.
Inside the church.