The Romanowski family
The First Generation
Introduction
These Romanowski pages are an attempt to preserve some old pictures of the Romanowski family and to share what I know about the family. Information is generally from public records, including the Ellis Island WEB site and US census records.
Genealogy
Although the Romanowski family used a Polish surname in this country, they claimed to be Lithuanian on the census records. Contemporary Lithuanians suggest the name Romanowski should be Romanouskas.
Urzula Ramanauskene (age 33) arrived at Ellis Island on April 17, 1902 with her five children, Wincenta (age 10), Pawel (age 9), Stefan (age 8), Martha (age 6), and Benedict (age 3) on the ship Pennsylvania out of Hamburg, Germany. This how the names are spelled on the Pennsylvania's manifest. She joined her husband in Peru, Illinois. They proceeded to have three more children: John, Frank (Francis), and Bill (Valentine). Urzula's maiden name was either Naruszewicz or Narusa. Since Naruszewicz is a notable Polish/Lithuanian surname, I prefer to believe that it was Naruszewicz.
Steve (Stefan) Romanowski's draft record cites his birthplace as Kowno, Lithuania. Kowno is the Polish spelling of Kaunas, the second largest city in Lithuania. This may also resolve another small mystery. The manifest of the ship that brought Ursula and the children to this country says that they were from "Kaliny". There is no such place as spelt. However there is a district in Kaunas called Kalnieciai.
Unless otherwise noted, names on this page and on the subsequent Romanowski pages are the ones commonly used by the family members. Much like other families in the early 20th century the names morphed due circumstances and customary usage.
Michael and Ursula - an early image.
Michael with his sons, Bill and Frank: Frank took this picture using a Brownie camera, a tripod, and a timer.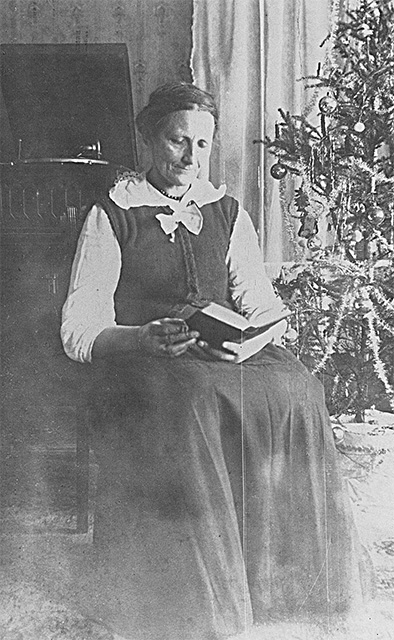 This is how I remember her.